Shopper Marketing requires Liquidus to work with retailers and store bought brands to produce ad units that dynamically display product info, store location, and more. Using programmatic media solutions the goal is to drive in-store and online sales of CPG products.
Since Liquidus was relatively new to the shopper marketing industry I played a key role in designing interactive ad units and videos that are now standard templates used today. Below you will find many examples of actively running campaigns that I designed for clients and the retailers associated with it.
Skills Involved
Interactive Graphic Design, Animation, Video Editing
Tools
Ae, Ps, Ai, Premiere
When
November 2015 – Present
Dynamic Commercials – Demos
This potential product was based off the services EyeView  has to offer. Essentially the first part of the video is a standard :15  spot. The second :15 is a dynamically rendered template that pulls the user's location and local offers into the ad. I placed two videos next to each other so you can see the differences.
Title
P&G, Pampers, Olympics Spot at CVS
Summary
The challenge of this ad was to somehow combine three different brands and one retailer into one :30 spot. While the first part of the ad is a standard :15 spot, this second part of the ad uses the retailer's branding (in this case CVS) as a template, and dynamically calls out the user's location, highlights a local offer, and ends with P&G/Olympics branding.
Title
P&G, Tide, NFL Spot
Summary
Similar to the video above, I was required to design a ad that used the retailer's branding (Target) as a template. The last 15 seconds would dynamically showcase local Tide offers based on the user's location.  My goal here was to find ways to seamlessly combine the pre-rendered :15 spot with the dynamic portion.
PetArmor Plus, Collars, and FastCaps Ad Units
As I mentioned above, I played a key role in setting the standard for what these Liquidus CPG/Shopper ad units would look like. PetArmor/Walmart was our first client in this market and I designed the ad units below.
Similar to other Liquidus Bannerlink ads, each ad unit has a collapsed and expanded state. In addition to the other examples, I designed the carousel you see below. The fallback static ad is displayed when the user's location cannot be found.
Another size ad unit is the 300×600. As you can see the callout "Hey Chicago!" changes based on the user's location. They can also scroll through the products in the carousel, click for a coupon at Walmart, and view their store's nearest location
Similar to the 300×600 ad unit above, the 320×50 is visible on mobile devices. If they choose to "Tap For Coupon" the ad units fills the screen. Once again, a fallback static ad is displayed when the location cannot be determined based on the user's IP Address.
PetArmor FastCaps – 728×90
FastCaps was another product offered under the PetArmor umbrella. Each ad unit encouraged users to visit the Walmart website or direct them to go to their nearest store.
PetArmor Collar News Feed Ad
Here are two examples of Facebook News Feed ad units with PetArmor Plus and PetAmor Collar.
PetArmor Collar Facebook Carousel
Working with Facebook Carousel ads, I learned how to effectively tell a story and engage users. I came up with the copy and designed the ads so that as you scroll right, you want to see what's at the end. I enjoyed putting these types of ads together because I feel like it allowed for more visual creativity.
TruHarvest Facebook Carousel
The TruHarvest Facebook Carousel ad was another good example of this medium. We actually photographed a coworker's dog, "Oscar" and with permission from TruHarvest, I placed him into the ad. Once again, I designed the carousel so the images were connected and thereby encouraged the user to continue to scroll to the end.
These Pantene and P&G mockups were designed as demos to showcase how an ad could be branded based on the retailer and the user's location.
Pantene 300×250 – Multiple Retailers
Using Pantene as the product, I designed three different ad units with three different retailers: Weis, Price Chopper, and Fred's Pharmacy. Notice how the offer changes as well.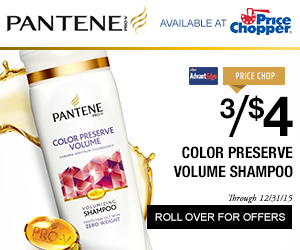 Price Chopper – 300×250 Collapsed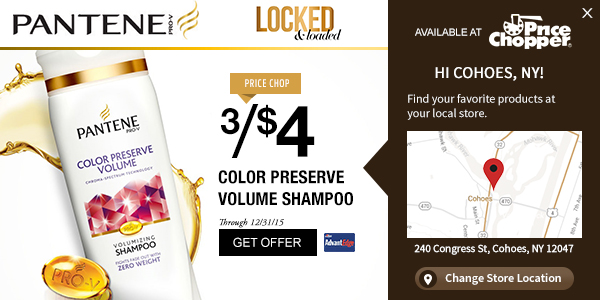 Price Chopper – 300×250 Expanded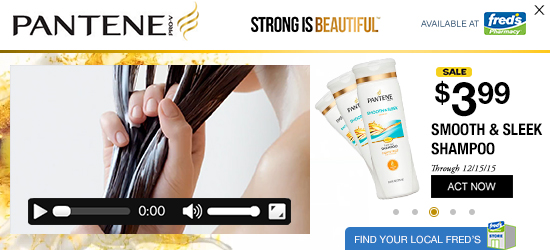 Fred's – Expanded with Product Carousel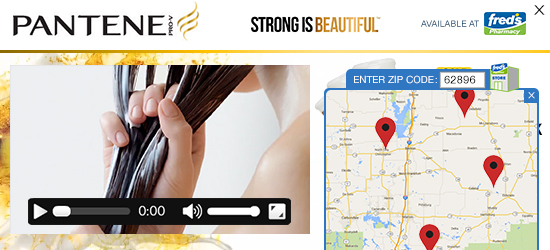 Fred's – Expanded with Map
P&G 300×560 – Multiple Retailers
This is the expanded state of a CPG/Shopper Carousel that showcases P&G products, with local offers. It's worth pointing out that the retailer's brand must cover a certain percentage of the ad unit.
Weis – Expanded Product Carousel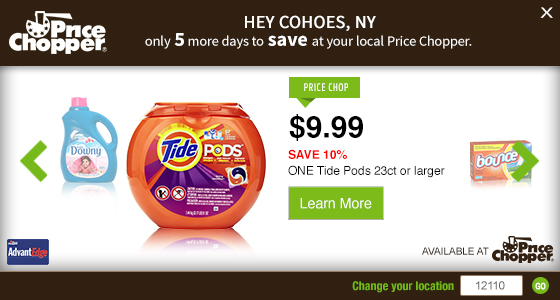 Price Chopper – Expanded Product Carousel