"Making mistakes is just
learning something new."
H ey! I'm Andrew, an Animator, Interactive UX/UI Designer, Video Producer/Editor, and Singer.
I am a lover of movies, music, technology, Pixar style animations, user friendly UI, and carefully thought out visual storytelling. I like to stay organized, detail oriented, and I'm always trying to think differently and go beyond what is expected of me.  When it comes to my skills, I regularly learn new things on my own.  I think it's important to remain well rounded and explore what you don't already know. This helps me to easily adapt to new technology and tools.
With over 8 1/2 years of experience in the marketing and entertainment industries, my current career objective is to fill the role of an Animator, Editor/Producer, Art Director, Designer, or a similar position.
When I'm not basking in the glow of the computer you can find me singing bass in a barbershop chorus, traveling to exotic places of the world, and over analyzing my favorite films, movie trailers, and TV shows.
Check out my work experience below!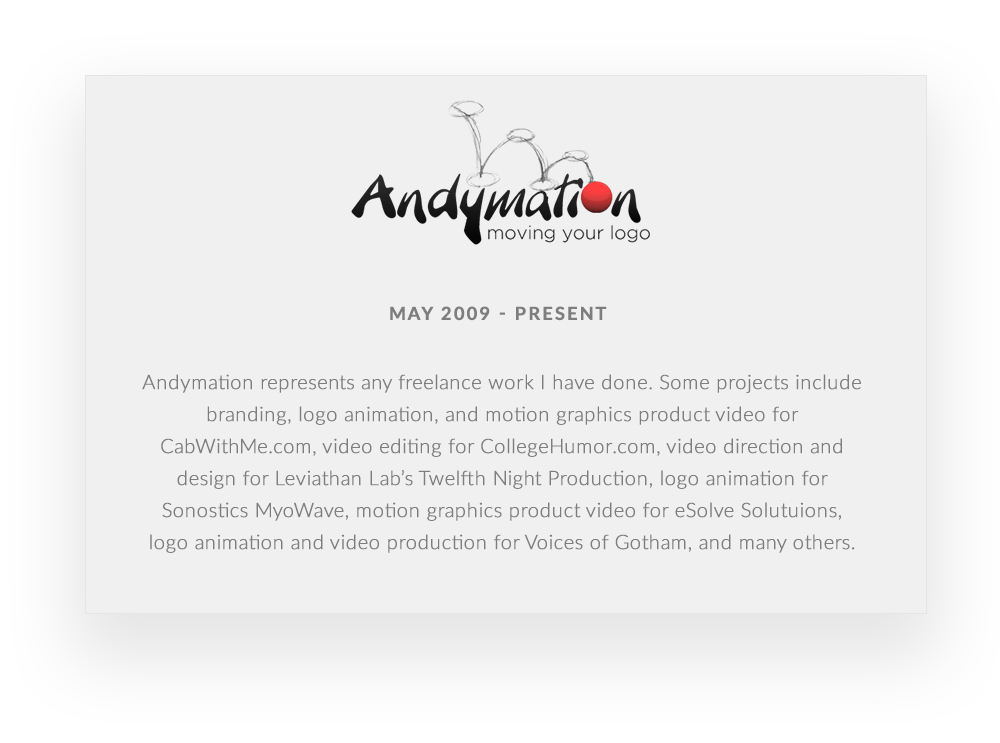 Aaron Sorkin Screenwriting Master Class (Summer 2016)
June Wright – Character Design Course (Spring 2015)
Palette and Chisel Portrait Drawing and Figure Drawing (Winter 2014-2015)
Industrial Scripts Online Screen Writing Course (December 2014)
UAlbany Still Lives Drawing Course (Spring 2013)
VanArts Pixar Master Class with Matt Luhn and Andrew Gordon (June 2011)
Worked with the CTO to design the Interactive Design for the fully dynamic Car Configurator and Repair Service product(s) that were bought by General Motors.
Solely lead all creative needs for video production and motion graphics animation at Liquidus Marketing
Oversaw the development of Post University's brand/video templates for Instructional Design
Lead several interns through the production process/Asst. Art Direction at University at Albany
Interviewed and hired potential Multimedia Content Developer candidates at Post University
Produced, Directed, Edited and wrote the TV Show "IC Everywhere" – from casting to production
Huichol Animation premiered at the Kampo Museum exhibit in Kyoto, Japan January 2010
Skills and Tools
Here are some things I'm proficient in.
Video
Final Cut Studio 7 and 10, Compressor, Adobe Creative Suite, After Effects, Premiere, Element 3D, Basic Cinema 4D
Design
Photoshop, Illustrator, InDesign,  UI/UX, HTML & CSS, WordPress, Dreamweaver, LightRoom, Basic Axure, SketchBookPro, Flash, *Learning Sketch*
Equipment
HDV, Canon DSLR 5D, C100, and DJI Cameras, Lighting, Audio Setup, On Location and Studio Shooting, Photography
Sound Mixing and More
ProTools, Audition, Finale, Audacity, Blue Yeti Pro Mic, Microsoft Office, Captivate, Mac/Windows OS, IT Experience, QNAP and Drobo Server Setup and Maintenance
Andrew is a fantastic creative talent! He is a whiz with motion graphics and gives his all to every project. I very much enjoyed working with him.


Paul Miller

Director of Digital Media at UAlbany
He is very adept at Final-Cut Pro. We tasked him with editing a large amount of video for shows such as Top Chef, Real Housewives, and more. He got the Bravo voice and tone, and has a great eye for detail.

Sonia Barlow

Interactive Producer
Andrew is extremely creative and focused, particularly in his motion graphics and animation work. He was both my teaching assistant for the Motion Graphics & Animation class at Ithaca College.

Mara Alper

Associate Professor at Ithaca College
I hired Andrew to make an animation for my online course about water entitled "Water = Life". He took copy I supplied and created a compelling, evocative animation, which people have responded to very strongly.

Mara Alper

Associate Professor at Ithaca College